Guitarist Paul Nelson – The Side Man to the Blues Man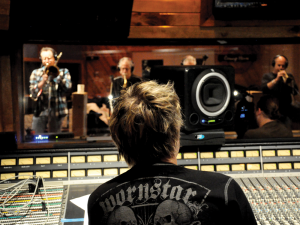 By Caryn B. Davis/Photo courtesy Paul Nelson
[av_dropcap2 color="default" custom_bg="#444444″]G[/av_dropcap2]uitarist Paul Nelson will tell you he has done it all; and if he had to stop tomorrow, he'd be satisfied. He's traveled around the world on tour several times. He's been interviewed by every major guitar magazine and news publication from Guitar World to Rolling Stone. His compositions and performances have been heard in numerous national and international television broadcasts and commercials. He's played in orchestras for Broadway productions like Little Shop of Horrors, The Rocky Horror Picture Show, and Jesus Christ Superstar. And he has performed with, or recorded with, musical giants such as Eric Clapton, Ben Harper, Joe Perry, Mark Knofler, Brian Setzer, Los Lobos, Elvin Bishop, Kenny Wayne Shepherd, John Popper, Edgar Winter, and Dickey Betts, just to name a few. But this isn't why Nelson is satisfied. He's satisfied because he has met his idol, bluesman Johnny Winter.
Nelson picked up his first guitar at age nine and started listening to the blues sounds of Johnny Winter, ZZ Top, and Jimi Hendrix before getting into rock.
"But really I listened to everything. Then I got into jazz-fusion like Jeff Beck; and that's when I started thinking about going to Berklee College of Music in Boston so I could learn all types of music," says Nelson.
Nelson understood early on that to be a full time, self-employed musician he would  have to immerse himself in all aspects of the industry; so once in college, he studied music production and engineering, lighting, sight reading, management, business, and song writing in addition to performance and craft. He has utilized all these skills at one time or another throughout his impressive career.
"I knew I wanted to be a musician, but I knew I couldn't be a one man, one band kind of thing. I had teachers who taught me I had to wear different hats: a rock hat, a blues hat, a jazz hat, a funk and county hat in order to work. I became versatile and learned all these different styles, and it widened my call list," Nelson says.
Nelson is being humble, but he is on the "A" List for 30 bands, meaning he is their first choice to call when they are seeking a guitar player for a recording session, live performance, or tour. As a guitarist for hire, his phone never stops ringing and to prove it, he has 3 million frequent flyer miles on Continental Airlines alone.
"If you want to be a well-rounded musician you have to do everything, but then you have to make a living doing it. I became the guy to call, and it kept spreading," Nelson says. "But my first love is blues and rock. And through the session work I was doing at the Carriage House, one of the studios here in Connecticut, I met Johnny."
Nelson was recording music for the XFL, a football league founded by the World Federation of Wrestling, while Johnny Winter was in the other room working on his Grammy-nominated album, "I'm A Bluesman" for Virgin Records. Winter overheard Nelson playing and was so impressed, he asked him to write a song for his album. Needless to say, Nelson was floored, but prepared.
"This was the guy. He was one of my idols in the same way Johnny idolized Muddy Waters," he recalls. "We hit it off, and I recorded the song for him. He said, 'This is great. Do you have two more?' So I went in the studio and recorded those. He said, 'These are fantastic. There is some other guitar playing on there. Would you be interested in playing those parts on my record?' I said, 'Sure, that would be great.' After that he said, 'Well, do you want to play all the other parts on all the other songs?' I said, 'That'd be great.' He said, 'Since you are on the record, you should come on tour.' And it just developed until the point where he said he was having trouble with his management and asked if I'd like to help him with his career."
A friendship was formed that lasted until Winter's death in July of last year. But it was more than a friendship; Nelson was instrumental in getting Winter off drugs.
Jeb Wright, creator of the Classic Rock Revisited website, wrote this about Nelson and Winter: "Johnny Winter found a guardian angel in his manager, producer, and second guitarist, Paul Nelson. In only six years, Nelson has taken a rock icon that had damaged himself to the brink of death with drugs and alcohol and rebuilt both the man and his career."
"From working with him and trying to help him, I knew he wasn't getting what he should have, credit-wise. He was there with Hendrix at Woodstock; and just as good, if not better. Everybody knew it. But he was a wreck. When he was asked to do interviews, he couldn't speak. He was writing himself out of history. I knew something had to be done to make him catch up for lost time," explains Nelson.
Getting Winter clean was no easy feat. He was stubborn, but Nelson persisted. When Winter wanted proof that his efforts would yield results, Nelson guided him in ways where he experienced a real sense of accomplishment, and eventually it paid off. But Winter trusted Nelson, and their bond was deep. Had that not been the case, who  knows if they would have succeeded?
"Everyone saw the improvement in him including the fans who were watching him like a hawk. I was a tremendous fan of his as well, but in order to help, I couldn't let him know that because he would have worked it to get what he wanted, which wasn't really what he wanted," Nelson says.
Nelson toured with Winter for many years prior to his death playing in venues throughout the U.S., Europe, China, and Japan where they got a tattoo.
"One of my favorite times with Johnny was getting my first tattoo. I was thinking, I'm in Japan, in a tattoo parlor, with Johnny Winter. If ever there was an excuse to get a tattoo, it was staring me right in the face. You can't really say no in that situation," Nelson recounts.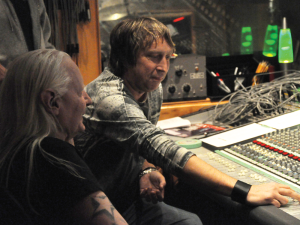 In addition to touring, Nelson also produced and played on two more albums with Winter including "Roots," which they promoted through a performance on Late Night with David Letterman, and "Step Back," Winter's last album. "Step Back"  soared to number one on the blues charts when it was released posthumously in September 2014. It is Winter's highest charting album of all time and was just nominated as "Blues Album of the Year" at this year's 57th Annual Grammy Awards.
Nelson wanted to help secure Johnny's place in music history and thought they should make a documentary about his life. The result is "Johnny Winter: Down and Dirty," which Nelson appears in and executive produced.
"Since he was so healthy we thought he would have a comeback. We thought it was time for him to tell his story because during the 1990s he wasn't there," says Nelson.
The movie is raw, real, and very intimate with Winter's interviews revealing all. It took three years to make with a camera crew following Winter and company around on tour, to Johnny's house in Connecticut, to his childhood home in Beaumont, Texas, to the Green Room at the David Letterman show. It also features Edgar Winter, James Cotton, Gibbons, Warren Haynes, Luther Nallie, Tommy Shannon, Susan Tedeschi and Derek Trucks, and others.
The film debuted last March at the South by Southwest Film & Music Festival in Austin, Texas winning awards, and will be in select theaters in January and then be available on DVD. Paul and Johnny screened it together over a large barrel of popcorn just before their appearance on Jimmy Kimmel Live.
"You really get a sense of what was happening on the road, but it covers a lot of topics: stardom, rock and roll, blues, history, drug addiction, and all kinds of wild stuff. It's like you are part of the band. You are sitting right with him. And he doesn't hold anything back," notes Nelson. "Through the course of the movie you see him getting better, and he actually gets younger. Amazing,"
Winter's death came as a shock, but Nelson believes all his years of smoking finally did him in. Still, Paul is happy he left on such a high note, and that he was able to help Johnny enjoy life and his career for the time he did.
"Everything he was doing with the album releases, TV appearances, and social media made people so much more aware of him and his music. Now through listening, they realize this guy is on the Mount Rushmore of guitar players, "says Nelson.
Nelson is still busy 24/7. He is hard at work on a solo album, managing artists, and touring with other notable musicians as part of the Johnny Winter Band: Winter Fest, a tribute and celebration of Johnny's music and legacy.
"Playing with Eric Clapton on a recording was a highlight, but just playing with Johnny was it for me. Everything else was just icing on the cake. I am very satisfied," says Nelson.
For more information log onto www.paulnelsonguitar.com.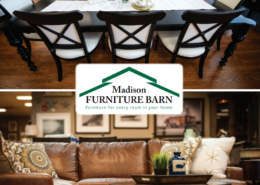 https://inkct.com/wp-content/uploads/2020/06/madisonbarn1-1.jpg
921
819
Ink Publications
https://inkct.com/wp-content/uploads/2015/06/ink-publications-finer-living-logo-300x163.png
Ink Publications
2020-04-02 11:27:19
2020-06-17 10:18:22
Solid Wood, Solid Friendships: This is Madison Furniture Barn's Success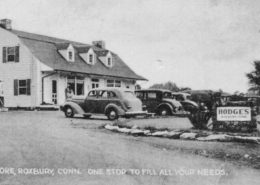 https://inkct.com/wp-content/uploads/2018/07/ROXBURY-MARKET-OLD-POSTCARD-crop.jpg
506
1000
Ink Publications
https://inkct.com/wp-content/uploads/2015/06/ink-publications-finer-living-logo-300x163.png
Ink Publications
2018-07-16 14:00:40
2018-07-16 14:40:14
Roxbury Market and Deli - The Pulse of Roxbury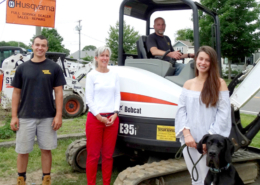 https://inkct.com/wp-content/uploads/2018/07/Taylor-Rental-Party-Plus-crop-1.jpg
566
1000
Ink Publications
https://inkct.com/wp-content/uploads/2015/06/ink-publications-finer-living-logo-300x163.png
Ink Publications
2018-07-16 13:39:04
2018-07-16 14:37:35
Taylor Rental and Party Plus - "Do You Have…?" Taylor Does!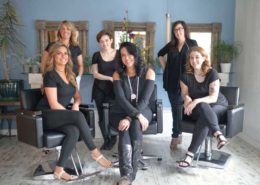 https://inkct.com/wp-content/uploads/2018/03/echo-salon-7-ink-publications-1.jpg
738
1000
Rona Mann
https://inkct.com/wp-content/uploads/2015/06/ink-publications-finer-living-logo-300x163.png
Rona Mann
2018-03-25 09:41:06
2018-03-26 08:21:05
Echo Salon, Guliford - Serenity, Artistry, and the Love of Romeo Valentino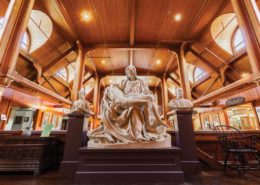 https://inkct.com/wp-content/uploads/2018/02/Slater_Museum_Nov_9_2015-28.jpg
667
1000
Ink Publications
https://inkct.com/wp-content/uploads/2015/06/ink-publications-finer-living-logo-300x163.png
Ink Publications
2018-02-25 12:41:31
2018-04-02 14:31:16
The Slater Memorial Museum: A Treasure Trove of Art From Five Continents
https://inkct.com/wp-content/uploads/2018/02/DSC_0065-B-edit-Sue-Fenton-2014-cropped.jpg
522
1000
Ink Publications
https://inkct.com/wp-content/uploads/2015/06/ink-publications-finer-living-logo-300x163.png
Ink Publications
2018-02-25 12:09:33
2018-02-25 12:23:41
The Crazy "Art" of Getting Downhill - The Hartford Art Sled Derby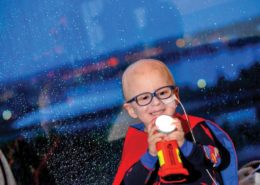 https://inkct.com/wp-content/uploads/2018/02/Good-Night-Lights-Miles_01.jpg
664
1000
Rona Mann
https://inkct.com/wp-content/uploads/2015/06/ink-publications-finer-living-logo-300x163.png
Rona Mann
2018-02-25 09:47:03
2018-02-25 10:16:15
Good Night Lights - Banishing the Bogeyman for Sick Kids