The Connecticut Forum
"

Connectivity Though Conversation
 By Laurencia Ciprus / Photos by Nic Caito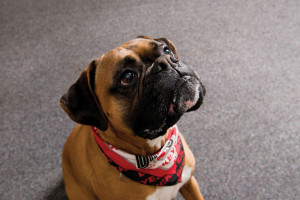 "I didn't think I'd be interested, but I'm so happy that I came." Movement shifts perspective. It clears out the clutter and charges the passion to swap out expired paradigms for innovative thought. This is the elegant and practical philosophy behind the sustainable magic of Hartford's Connecticut Forum: the long-running discussion series that resurrected a city's crumbling spirit through inspirited conversation. It's the reflected genius of the forthright intention of Doris and Richard Sugarman to simply "do good" in an adopted city.  Transplanted from Richmond, VA, the Sugarmans relocated to Hartford in 1989 when Richard was asked to head up the Connecticut division of Advest, Inc. The couple surveyed the landscape through a wide lens, and saw a Capitol Region lacking solid purchase; no social connection; and strong parallels between Harford and their native Richmond. Both were bifurcated cities in ongoing struggles with race and bussing, economic downturns, and social disparities.  Hartford's economy was depressed. Morale was low and city streets echoed after business hours. Insurance and financial service employees boomeranged back to the perceived safety of bedroom communities disconnected from Hartford. People weren't talking about the uncomfortable ills in their backyards, nor seeking solutions to mend the Capital Region's fraying edges. There was little impetus for viable discussion, and no consistent platform available to do so.
Impassion and visionary – with The Richmond Forum as a rough template – the Sugarmans galvanized a grass roots effort to reunite the Capitol Region through non-biased and unfettered dialogue. The CT Forum blueprint was solid: a diverse panel of the best minds and personalities in match-up with the evening's topic, hosted by a relevant moderator. Garnering the support of a dedicated volunteer base with a buy-in from twenty-five initial corporate sponsors – including Advest, The Hartford Courant, CPTV and Trinity College – conversation ignited in 1992 and intellectually caffeinated a somnolent city. Subjects balanced between lightweight and weighty over the past 23 years. From comedy; arts; creativity and media; to politics; global affairs; economics; and medicine it was all in equal measure and intention to inspire, provoke and delight in random order of business. The momentum of The Connecticut Forum moved Hartford and community leaders toward collective engagement.
With its first incubator a borrowed Advest cubicle – followed by several interim moves – The Forum now calls a sunny space at 750 Main Street home. The Forum's nuclear family radiates the Sugarman's warmth. The team makes the process of pulling together the best global minds seem like throwing together an ongoing party. Mr. Rooney – Doris' cherished Boxer – adds to the energy and pops in with kisses. It's a rainy day and everyone is pitching in: getting ready for CNN luminary Fareed Zakariah and MIT's Joi Ito to speak about the "Next Big Thing" at the upcoming Forum. Despite the looming deadline, the warm embrace at the door belies the urgency of the day. The staff is in concert and their harmony is evidence of a finely tuned machine. There is an unspoken standard of excellence with every detail attended to. There are boxes of programs strategically stacked in the lobby and snacks on the table for the conversation. Mr. Rooney curls up on the floor near Executive Director, Doris Sugarman, and Ruth Cullen – Director of Advancement and Communication – who started out as a volunteer and like many others, gravitated to this true north out of curiosity pitched in and never left.  They settle in to reflect on the past few decades.
Right out of the blocks, The Connecticut Forum drew big names with forefront topics. Late millennial issues like AIDS and Race – which predictably caused polite society to avert their gaze and change the subject – filled seats at The Bushnell to brimming with inquisitive minds from city, suburbs and beyond Connecticut borders. Doris looks back on "Straight Talk and Honest Answers About AIDS" presented in February of 1993. "It was a poignant and unforgettable night." The panel included the strong voices in the AIDS community and featured the late Arthur Ashe in his final statement about his disease. Too ill to attend in person, his wife Camille submitted his video taped statement about the politics and realities of HIV and AIDS one week before the event.  After impassioned and raw conversation between legendary AIDS activist and writer Larry Kramer; Jeanne White – the late Ryan White's gently-spoken mother; Dr. Bob Arnot; AIDS patient and advocate, Mary Fisher; and Dr. Robert Gallo, the panel broke for intermission. "We learned that Arthur Ashe had passed away, and Richard (Sugarman) made the difficult decision to announce his passing to The Connecticut Forum audience when we reconvened." This is the difference between theatre and the real time spontaneity of The Forum… life is allowed to happen.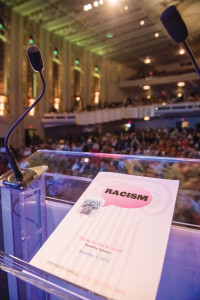 Race has been a recurrent theme in The Forum. In May of the same year,  "Focus on Race Relations" was held to another packed house. In the atmosphere of a post-Rodney King country, this powder keg topic held the audience enrapt, and nothing was off-limits. Moderated by Charles Ogletree: Betty Shabazz, the widow of Malcolm X; rap and media icon Chuck D; American conservative, William F. Buckley, Jr.; actor and director, Edward James Olmos; and controversial Los Angeles police chief, Daryl Gates took the stage, with strong exchanges from discordant viewpoints. The impassioned sentiments resonated long after the house went dark. Area teenagers who attended through Forum Community Outreach wanted more. This was their first opportunity to experience plain talk about race and they approached Doris and Richard for help in keeping the ideas coming.  The Sugarmans signed on, but the teenagers would have to spearhead the effort if this was to be a true reflection of their conviction.
This was the ignition point for The Connecticut Youth Forum. Twenty-three years later, they are intrinsic to the mechanics of every Connecticut Forum event. Annually, over 750 students from 35 urban, suburban and rural schools come together to formulate and exchange ideas; mentor newcomers; and celebrate their commonality and differences with deference and respect. Operating in tandem with The Connecticut Forum, Youth Forum members shape the future though several conduits. The Youth Forum Leadership Network is a monthly think tank comprised of 25-30 Forum student volunteers who take a closer look at big picture ideas and develop fresh opportunities for engagement.  The Student-Panelist Roundtable provides a unique opportunity for eight hand-selected students to formulate and pose informed questions to Connecticut Forum panelists prior to each event. There is also the Annual Student Exchange: a gathering of 250 students for a full day of ideas, inspiration and fun. The Youth Forum is an ever-expanding universe, with leadership and mentoring emanating from former Youth Forum members who connected with The Forum, joined the conversation, and never left.
On the cusp of The Connecticut Forum's 25th anniversary, the consensus felt it was timely to return to the beginning and re-examine the Racism issue. It was a stellar panel moderated by NPR commentator Michele Norris, with writer Wes Moore; Morris Dees, founder of the South Poverty Law Center; former LA Mayor Antonio Villaraigosa and, writer, actress and comedian Jessica Williams. Walking through the day in tandem with Ruth Cullen and Director of Development – Jill Fletcher, shed light on the myriad components that make each evening fluent. It was a tight schedule. In a conference room at The Marriott, Jamie Daniel, Director of Programming, prepped Youth Forum members with their questions before the panelists joined the students in a relaxed exchange. There is an added grace note of synchrony within the evening's score. Malik Howard – a student from The Global Communications Academy in Hartford's North End – had written to Wes Moore after reading his book "The Other Wes Moore" during an after school program with The Legacy Foundation. His letter made it through to Moore, and with the help of a few mentors and a little luck, Malik was posing a question to his role model and posing for a photo op. One small movement shifts the trajectory of a life.
The cocktail party and dinner granted free access for attendees to mingle with the panelists, then the activity moved seamlessly to the Bushnell and a packed house. There was a minor interruption with an unscheduled chorus of "Black Lives Matter" from a local advocacy group. It was a poignant moment to set off the discussion. People were unsettled, panelists regrouped and somehow, the evening was better for it. It was a reference point about how much has happened and not happened since that early Forum in 1993. The evening went well. Wes Moore discussed his son and the hard conversations he knows will be ahead of them as he grows. Morris Dees reflects back on a lifetime of providing voice to those who are in need. Jessica Williams lent humor and candor about her middle class beginnings and a mother who snapped her to right when she took her educational opportunities for granted. People listened.


At intermission, there was an escort through the labyrinth to backstage.  A squall of conversation ensued between a diverse and impassioned group over sheaves of question cards, which were filled out and collected earlier.  Good ideas were passed along for validation and the obvious ones, fell to the floor like white leaves. The best were answered; there was conjecture and conclusion; then time ran out. The Bushnell went dark and another Forum wrapped for the night. Around midnight, the staff and extended family gathered at a dusky Irish pub to review the evening. It was good stuff. The protesters were acknowledged as social punctuation and tomorrow was the debriefing and uploads to social media. The family pulled together last minute details for Doris' birthday surprise. The group walked down darkened Hartford streets filled with brighter promise than in 1989. The Connecticut River was reconnected to the cityscape; there was a new Convention and Science Center; the Wadsworth Atheneum had just completed a full renovation and UCONN was repurposing the old Hartford Times Building for a downtown campus. People were talking about their city and left a little better this night for the butterfly effect of The Connecticut Forum.
Fro schedules and more information log on to: http://www.ctforum.org/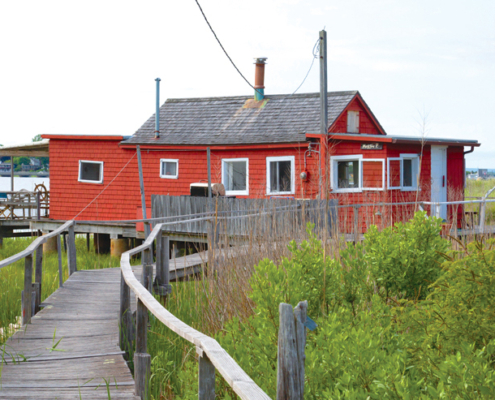 https://inkct.com/wp-content/uploads/2018/07/279_MAGGIEP-crop.jpg
493
1000
Ink Publications
https://inkct.com/wp-content/uploads/2015/06/ink-publications-finer-living-logo-300x163.png
Ink Publications
2018-07-16 15:31:35
2018-07-16 15:54:22
The Maggie P... "Was, and Still Is, Home"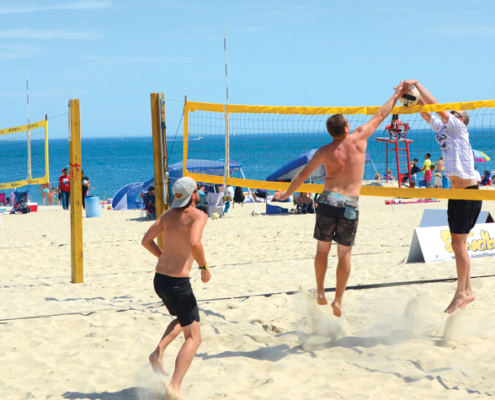 https://inkct.com/wp-content/uploads/2018/07/Ocean-beach_DSC1677-Crop.jpg
475
1000
Ink Publications
https://inkct.com/wp-content/uploads/2015/06/ink-publications-finer-living-logo-300x163.png
Ink Publications
2018-07-16 15:09:08
2018-07-16 15:14:17
The Rebirth of Ocean Beach - 1938: Devastation - 2018: A Jewel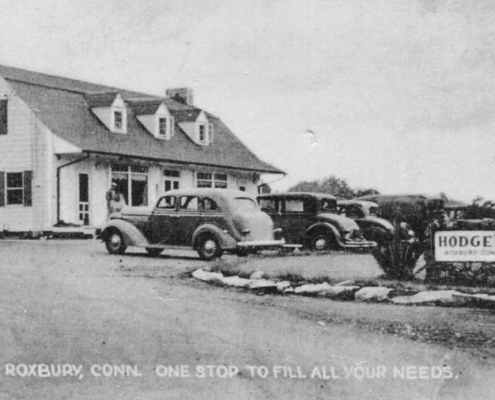 https://inkct.com/wp-content/uploads/2018/07/ROXBURY-MARKET-OLD-POSTCARD-crop.jpg
506
1000
Ink Publications
https://inkct.com/wp-content/uploads/2015/06/ink-publications-finer-living-logo-300x163.png
Ink Publications
2018-07-16 14:00:40
2018-07-16 14:40:14
Roxbury Market and Deli - The Pulse of Roxbury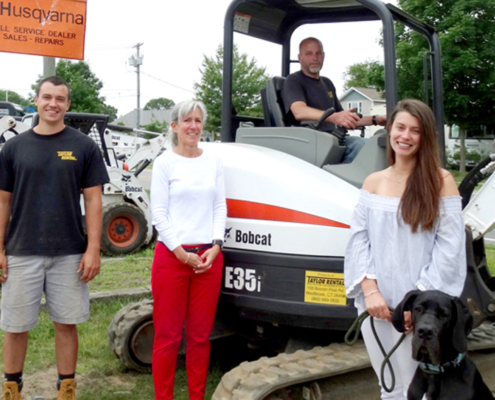 https://inkct.com/wp-content/uploads/2018/07/Taylor-Rental-Party-Plus-crop-1.jpg
566
1000
Ink Publications
https://inkct.com/wp-content/uploads/2015/06/ink-publications-finer-living-logo-300x163.png
Ink Publications
2018-07-16 13:39:04
2018-07-16 14:37:35
Taylor Rental and Party Plus - "Do You Have…?" Taylor Does!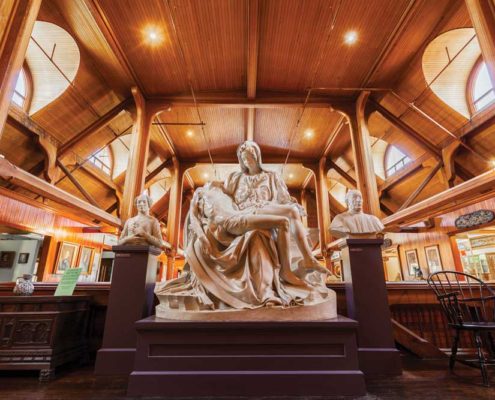 https://inkct.com/wp-content/uploads/2018/02/Slater_Museum_Nov_9_2015-28.jpg
667
1000
Ink Publications
https://inkct.com/wp-content/uploads/2015/06/ink-publications-finer-living-logo-300x163.png
Ink Publications
2018-02-25 12:41:31
2018-04-02 14:31:16
The Slater Memorial Museum: A Treasure Trove of Art From Five Continents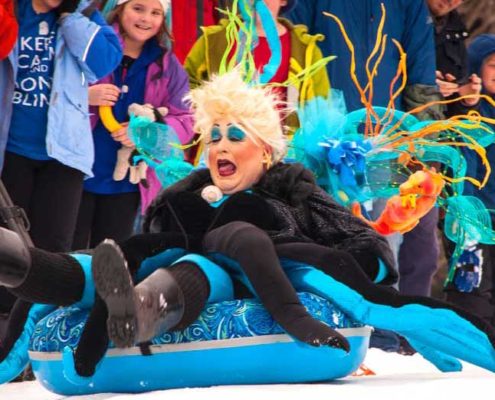 https://inkct.com/wp-content/uploads/2018/02/DSC_0065-B-edit-Sue-Fenton-2014-cropped.jpg
522
1000
Ink Publications
https://inkct.com/wp-content/uploads/2015/06/ink-publications-finer-living-logo-300x163.png
Ink Publications
2018-02-25 12:09:33
2018-02-25 12:23:41
The Crazy "Art" of Getting Downhill - The Hartford Art Sled Derby